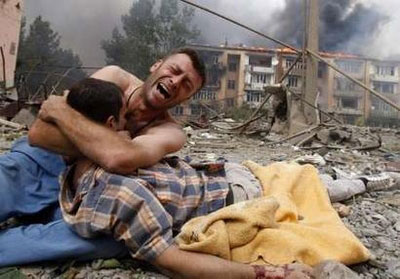 In the greatest bit of political hypocrisy since Barry "I-inherited-this-Great-Recession-from-Bush" O'Bama
told graduates
they should "
take responsibility . . .for [their] . . . failures",
Vlad Putin treats the world to this
little humdinger
re. the Gaza blockade incident:
"The loss of peaceful civilians has caused a new exacerbation of the situation [in the Middle East]. . . . We are deeply worried by such a crude violation of the universally recognized norms of international law."
How 'bout this, Vlad? --We'll investigate the Israelis concurrently with an investigation of
the Russian invasion of Georgia and annexation of South Ossetia
. How many peacful civilians were killed in that little excursion?
Picture found
here
.